About Us
Pet Vet Animal Clinic & Mobile Practice, Ltd. is proud to serve the Huntley IL area for everything pet related.
Our team is committed to educating our clients on how to keep your pets healthy all year round. Pet Vet Animal Clinic & Mobile Practice, Ltd. is committed to providing continuing education to all staff members so we stay on top of the latest advances in veterinarian technology. Above all, we believe that all furry family members need to be treated in a Fear Free fashion during every check-up or procedure.
Our History
In January of 1999 Dr. Debra Junkins started her practice in Huntley. She was aware of the "boom" going on in the friendly village of Huntley, including the development of Del Webb's Sun City, and thought it would be the perfect place to start a business. She called her new practice Pet Vet Animal Clinic and Mobile Practice, Ltd. because she believed it was important to provide at home veterinary services as well as the typical in-clinic setting. For the first 6 months Pet Vet was a mobile practice only; in June of 1999 leased office space was ready and the clinic became a reality. The office was located in a small strip mall and had a total staff of 3: Dr. Deb, Michelle, her assistant, and Diana, her receptionist/office manager.
Due to the overwhelming response from her clients, the business quickly outgrew that facility. In addition to needing more space, Dr. Deb wanted to provide additional services to her clients and their furry family members. A new 6,200ft free standing clinic was designed and built in Huntley. In April of 2004, Dr. Deb moved the practice to its current location.
Learn more about our company by reading our Frequently Asked Questions (FAQ).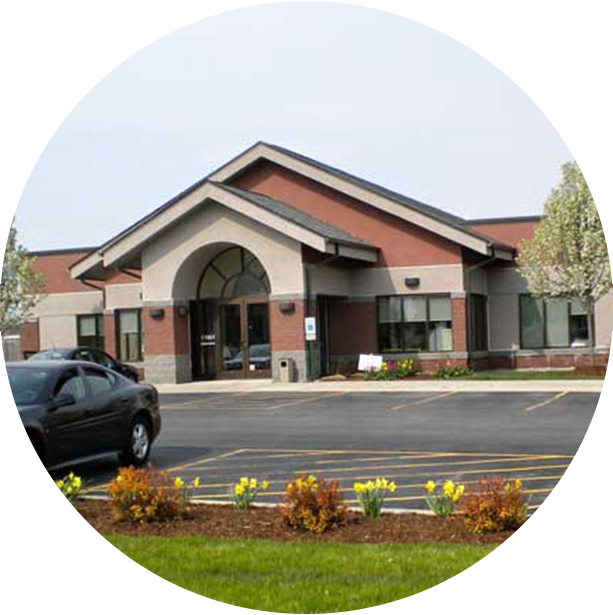 We will provide the highest quality medical and surgical care possible to our patients.
We will consider referral to specialists as part of our provision of this care.
We will provide this care in a modern, safe, and comfortable working environment.
We will go out of our way to make this care convenient.
We will find a way to say yes.
We will celebrate the Human-Animal bond during its entire length; with excitement and awe in the beginning, enthusiasm in the middle respect and dignity in old age, and deepest sympathy in passing.
We will show compassion for our patients and understanding of our clients.
We will listen to our patients, to our clients, to each other and to ourselves.
We will openly discuss with our clients their animals' health care options.
We will give back to the animal and human community that has made this opportunity possible.
We will seek to better ourselves, both doctors and staff members through continuing education.
We will enjoy what we do and balance our work and social lives.
Have a Question? Get In Touch.
The best veterinary care for animals is ongoing nutrition and problem prevention.
If you have a question, please call (847) 669-6635 or visit our Contact Us page to send an email!