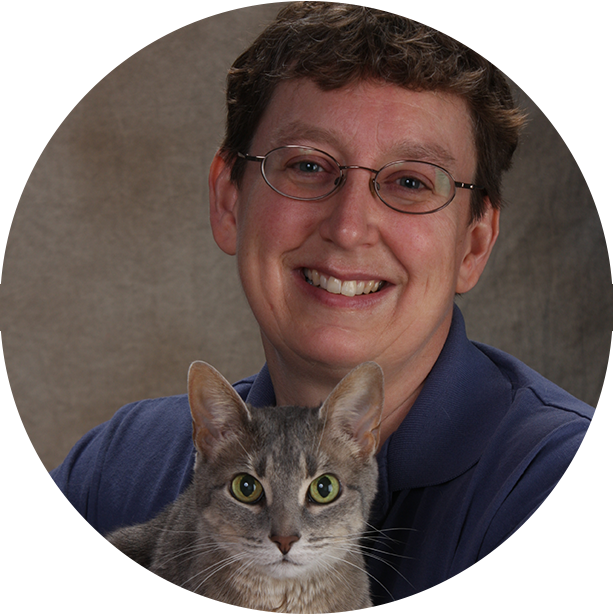 Dr. Debra Junkins
Dr. Debra Junkins is the owner of Pet Vet and the lead Veterinarian. She attended the University of Wisconsin, Madison as an undergraduate. In 1989 she graduated second in her class, from the University of Wisconsin, Madison, School of Veterinary Medicine with her Doctor of Veterinary Medicine Degree. After graduation, Dr Deb did a 1-year internship at the Illinois Equine Hospital and Clinic in Naperville, IL. After the internship, she was employed by Hartland Veterinary Clinic, in Woodstock, IL, as an associate veterinarian from 1990 to 1998. In January of 1999 she started Pet Vet Animal Clinic and Mobile Practice Ltd.
Dr. Deb spent her summers as a kid on her grandparent's farm in Iowa. Dr Deb says, "That was an irreplaceable experience that made me realize I wanted to work with animals when I grew up". The experiences have been many over the years; "I have shed tears in awe, inspired amazement and in complete frustration. I have laughed at pets with their owners and at myself at times. Playful, inquisitive, innocent new puppies and kittens make me smile, as do brave, loyal, opinionated old dogs and cats. Veterinary medicine has led me to be too hot, too cold, too wet, and too exhausted physically and mentally. It has also allowed me to work in beautiful weather and locations outdoors and in the comfort of client's homes. Looking back, I might change an occasional occurrence, but I wouldn't change the overall accumulation of my experiences." Dr. Deb says, "I get the most satisfaction out of being a vet when I can take a sick or injured animal and 'fix' them. When I have to work hard at a diagnosis and then determine the correct treatment and see the animal improve and finally be back to normal-there's no other feeling like that and it takes the effort of the patient and the willingness of the owner to make it all happen."
Dr. Deb and her mom Joann have a town home in Huntley. They have two kitties; Dr Deb's is Smarty Jones (aka: Big Cat, Fancy Feet), and her Mom's is Cutie (aka: Little Cat or Tex). Dr. Deb's brother, his wife and their two kids live in Denver with 1 kitty. Dr. Deb is excited to say, "I'm a work in progress now that my business isn't taking up all my time. I love to travel and soon my mom and I will have visited all seven continents. I scuba dive and want to go dive with a Manta Ray. I enjoy going to see plays, especially musicals. During the summer I enjoy grilling. During the winter I enjoy curling up with a book in front of a real wood fireplace. Any season is good for watching sports on TV." Dr. Deb adds, "I really enjoy working with animals and the people they come with. Every day all of us at Pet Vet Animal Clinic and Mobile Practice are doing our best to keep pets healthy and their people informed. Veterinary Medicine is a field that is exploding on a daily basis with new methods to help pets live longer and healthier lives. I'm excited about what the future will bring."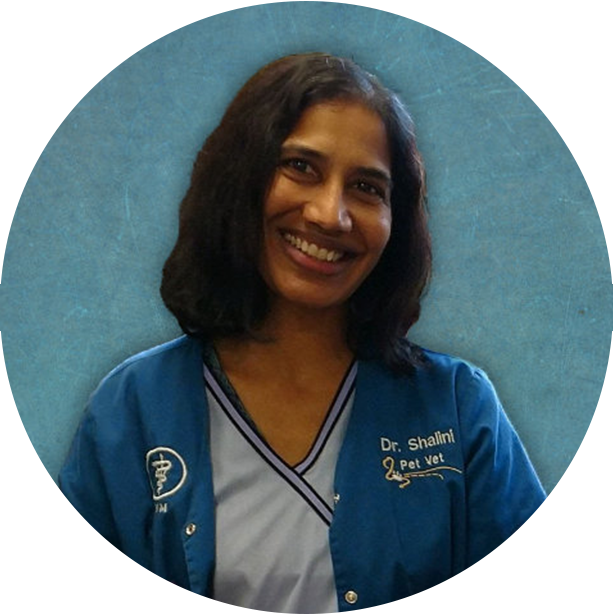 Dr. Shalini Emmanuel
Dr. Shalini Emmanuel grew up in the UK. As a child who loved animals and learning, she was first inspired to become a veterinarian by reading James Herriot books. She went on to graduate from the Royal (Dick) School of Veterinary Studies in Edinburgh, Scotland. She worked in rural England for a few years until settling here in the Midwest, along with her husband, two children, 3 family dogs (Millie – a sweet, senior lab-boxer mix, Chase – deaf, quirky, cute Australian Shepherd, Kestrel, a cautious, affectionate Papillon mix) and various foster dogs.
As a veterinarian, she enjoys the never-ending variety and daily opportunities for continued learning, while appreciating the privilege of caring for much-loved furry family members. She has completed an 18-month course in ultrasonography in order to provide abdominal ultrasound scans for in depth diagnoses of many conditions. Her focus is helping to provide a whole team approach in order to promote wholeness for the pet in every stage of life.
Have a Question? Get In Touch.
The best veterinary care for animals is ongoing nutrition and problem prevention.
If you have a question, please call (847) 669-6635 or visit our Contact Us page to send an email!