Veterinarian Woodstock IL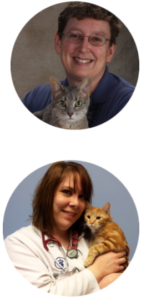 In Need of a veterinarian Woodstock IL? If you live in Woodstock or the surrounding area, then you have found the perfect site to find a veterinarian. Dr. Debra Junkins, Dr. Jessica Kriner, and Dr. Shalini Emmanuel are licensed veterinarians, treating companion animals. Pet Vet Animal Clinic and Mobile Practice is a full service animal hospital and will take both emergency cases as well as less urgent medical, surgical, and dental issues. Your pet's health and well being is very important to us and we will take every step to give your pet the best possible care.
Our exceptional team of professionals will work with you to deliver an individualized health care plan to ensure optimum health for your pet and their individual lifestyle. We are honored to serve the pets and their owners of Woodstock and the surrounding areas and pride ourselves on establishing real, honest, and meaningful relationships.
At Pet Vet Animal Care Clinic & Mobile Practice, we look forward to welcoming you, your dog, cat and other pets. Everyone on our staff believes that the better we get to know your pets, the better we can provide them with the best possible health care. In fact, when you come in, you'll be treated as part of our family. You will also meet some of our furry family members that sit behind our reception desk or in our lobby welcoming you and your pets. Some are even up for adoption if you are inclined! We are always happy to answer all of your questions and concerns (You may also visit our FAQ page HERE). A few days after visiting our hospital we will contact you to make sure your pet is well and to see if you have any questions for our staff. We want you to know that your pet's health is our top priority. We are Veterinarian Woodstock IL specialists and welcome the opportunity to work with you. Feel free to contact us at 847-669-6635.
Pet Vet Animal Clinic & Mobile Practice invites you to experience the difference at our caring, cutting-edge facility. Stop by any time to meet our staff, and be sure to sign up for our monthly email newsletters and follow us on Facebook and Google Plus.We hope to see you and your pet soon!
Veterinarian Woodstock IL: Our Facility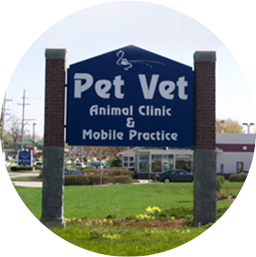 Our state-of-the-art facility was designed to provide our clients with a full range of services including:
Wellness and Preventative Care
New Puppy & Kitten Examinations
Sick & Injured Examinations
Vaccines & Booster Checks
In-Hospital laboratory testing and Blood Work
Full surgery capabilities
Comprehensive digital dentistry
Urgent / Emergency care
Specialized monitoring including EKG, blood pressure testing, pulse oximetry, capnography
Digital radiography and ultrasound
Allergy consultation and testing
Healthy starts for kittens and puppies
Geriatric care
Weight management counseling
Microchip implantation
Health certificates for travel
Our surgery suite has two heated surgery tables, a state of the art dental suite complete with digital dental x-ray, plus an ultrasonic scaler. Our pharmacy is fully stocked with routine medications. We can have medications compounded in specific flavors, liquid or medications that are absorbed across the skin. We carry prescription foods from Hill's and Royal Canin in stock or if needed, we can special order other veterinary diets. We only ask that when you schedule an appointment that you please take time to fill our our online forms. This lets us record our pet and owners into our state of the art management software so that we can effectively and efficiently provide the service you deserve!
Veterinarian Woodstock IL: House Calls (Mobile Practice)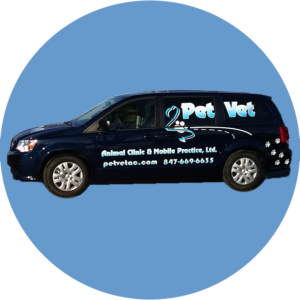 Pet Vet is proud and committed to offering House Call Services to help reduce the stress on pets and their owners. House call services are performed by a veterinarian and accompanied by an assistant. Sick animals can be assessed at home and simple diagnostics and limited treatments performed. We feel our most important house call service is to perform an at home euthanasia. Our compassionate staff provides this service in the comfort of your own home, following your wishes for the comfort of your pet and your peace of mind. Pet pick up service is available if needed.
At Pet Vet, we have the reputation of being Woodstock premier animal clinic. We're passionate about Woodstock pets, and that passion shines through with every interaction. Our commitment to practicing the highest quality veterinary medicine is evident and ongoing. We understand that it's often a difficult, emotional time when your pets are ill or injured, and our veterinarians and staff are always there to offer a gentle hand. We are committed to the highest standards of medical and surgical diagnosis and treatment. We hope the experience you and your pet has with Pet Vet will love visiting our team of passionate and friendly veterinary professionals, committed on making the veterinary experience a positive one.
Veterinarian
Woodstock IL
Contact Us
The best veterinary care for animals is ongoing nutrition and problem prevention.
If you want to ask a question call 847-669-6635 or email us and we'll promptly get back to you.
Our Huntley veterinarian office is very easy to get to, and you can find directions on our Contact Us page.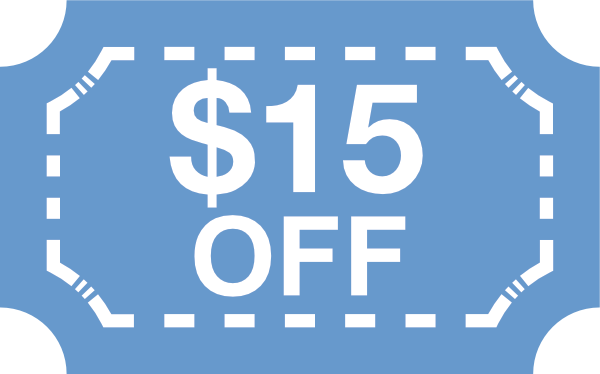 Exclusive Offer
New Clients Receive $15 Off First In Clinic or At Home Service.
Sign-up using the form below or call us at (847) 669-6635 to take advantage of this offer.
"*" indicates required fields
Have a Question? Get In Touch.
The best veterinary care for animals is ongoing nutrition and problem prevention.
If you have a question, please call (847) 669-6635 or visit our Contact Us page to send an email!